Interview with Choi Ha Yong, the General director of Posco International's "MMW"Grain Terminal
Since November 2019, the new MMW Grain Terminal has already handled more than 1 million tons of grain. Currently, the capacity of simultaneous storage of the grain terminal is 142 thousand tons.
In the summer of 2020, Ha Yong Choi became the general director of the MMW Grain Terminal. Ukrainian Shipping Magazine (https://usm.media/intervyu-s-ha-jong-czoem-direktorom-nikolaevskogo-khp-kompanii-posco-international/) talked to Mr. Choi about the terminal in Mykolayiv, Posco Group, risks of foreign investment in Ukraine and the similarities between Ukrainians and Koreans.
Ukraine, investment in the grain market and the story of Mr.Choi
How long have you been working in Ukraine?
– My first visit to Ukraine was the business trip in 2004 or 2005. Then we worked with the TV operator CDMA Ukraine: my colleagues and I produced a cell phone according to the CDMA 450 MHz standard and repeaters. At that time, this frequency was used by about 20 countries around the world.
We released two phones and successfully sold them to the CIS countries. It continued until 2010 – and our corporation, Daewoo International, decided to open its representative office in Ukraine. Before that, we worked under the name Daewoo, although the first entry of the company into Ukraine took place in 1994. By 2000, the Daewoo Group had disbanded, and we worked under the name Daewoo International.
Coming back to 2010: then I came to Ukraine, in early January. I started looking for an office space, recruiting employees and, one might say, our story began just at that period.
It turns out that your arrival on the grain market began in 2010?
– Then we have not reached the terminal yet. Our main activity was metallurgy, chemistry, mechanical engineering, many things, but not the grain business. At that time, Korean companies practically did not deal with grain. But, as a representative of our corporation, I traveled around Ukraine during 2010 on various business trips – and then I saw the harvest, grain, trucks, and wagons.
I began to study the macroeconomics of Ukraine in more detail. And it's worth noting here that the Daewoo International opened a representative office, because Ukraine is one of the leading countries in the production of metal. It was an important industry for our corporation, so since 2010 I have been visiting Donbass very often. We have been working with metallurgical partners for a long time and during this period we have shown a good cargo turnover.
And during those trips I saw the potential and opportunities of the grain market. Despite the fact that metallurgy was in the first place, I began to study agribusiness.
In those years, our Rice Trading Corporation in Asia ranked first in import and export. I suggested trying to invest in the grain market, work with other crops.
Colleagues treated the Ukrainian market very negatively; told how in the "2000s" they were deceived by their Ukrainian partners. And my task was to change this attitude. To prove that Ukraine has both prospects and opportunities. But I could not prove it otherwise than by deed.
How long did it take to convince partners that it was possible to invest in the Ukrainian grain market?
– For about a year, I persuaded my colleagues to look towards this niche. As a result, we signed the first contract with the SFGCU (State Food and Grain Corporation of Ukraine). It was very important for Koreans that this is a state-owned company, the level of trust is still higher than in private companies. It was wheat, we participated in the tender to ship it to Bangladesh. The agreement was signed just at the end of December in 2010. It is important to note that we participated as a trader, the terminal was still far away.
Grain terminal "MMW", difficulties of 2020 and terminal plans for the future
Let's talk about the terminal itself. Please tell us in more detail about what MMW Grain Terminal is doing today.
– Now the capacity of total storage is 142 thousand tons. There are two reinforced concrete elevators – 6 thousand and 60 thousand tons. There are also AGI metal silos with storage capacity of 72 thousand tons, and hopper-type silos – 4 thousand tons. There is also a grain dryer – 100 tons / hour, and the capacity of our transport equipment reaches 1 000 tons per hour. In general, the terminal's annual capacity is 2.5 million tons.
We bought the MMW terminal from our Ukrainian partner OREXIM in 2019, but not "from scratch" – they were building it. This has both pros and cons. When a building is new, it is completely controlled by you – the purchase of modern equipment, personnel issues, security, and so on. And this structure already existed, so it had to be modernized. But this is good for us: in the future, we can expand the capacity of one-time storage.


Of course, we will not stand at the level at which we are now – since we have already entered this business, then we need to develop. Plus, we want to expand throughout Ukraine; one terminal is not enough. Market situations are unpredictable, like last year. And this is understandable, the climate is changing, everything is changing. You have to be very flexible in order to work for clients, for yourself – but for this you need to have your assets everywhere.
We have been working for a little over a year, but already now we have reached the indicators of 1.2 million tons of cargo.
What difficulties did you face as a terminal director?
– I came to this position last summer. Before that, I worked as the director of our Kyiv office. Of course, even before the opening of the terminal, I took part in the process, negotiated with Ukrainian partners. I was familiar with it, but not completely.
For me, the biggest challenge as a terminal director was how to organize the overall team spirit. We have two different nationalities in our team – Ukrainians and Koreans. Besides me, there are 5 more Koreans working in the company. Unfortunately, they do not speak Ukrainian or Russian. And, despite the presence of a couple of translators, communication between people was greatly complicated because of this. When you are not in touch, many nuances and work issues are difficult to solve. Mutual understanding is very important for running a new business. It is necessary to maintain balance and harmony within the team. So, I practically had a double job. There are things that you cannot explain in words, you can only feel it.
Now, thanks to the understanding of the team, everything is gradually getting better. I think it will bring more synergy – we exchange international experience and become even more professional.
If we talk about the business side, were there many difficulties?
– Of course, business is always difficult. In fact, apart from the issue of collective understanding, there were no particular difficulties.
I can highlight one interesting point. We are negotiating with
Ukrainian Railways and MPPZhT(Intersectoral Industrial Railway Transport Enterprise), but there is one inconvenience – the railway track outside our terminal, between us and the station. One part of this road needs to be repaired to increase speed and accommodate more carriages. But this is not done the way we want: the work on this section of the track depends on two state-owned companies.
If it only depended on us, we would have done it already. But in this situation, you have to negotiate, and while the question remains open. The discussion began at the end of the year, then the holidays began, and the topic was postponed; I hope the issue will now begin to be resolved.
Did the poor harvest of 2020, which the agrarians talked about, affect the operation of the terminal?
– Yes, very noticeable. It was difficult for everyone, especially for traders – the price changed dramatically, problems with the harvest, grain quality. The pressure was constant. Everyone understands this.
For our part, we try to make sure that none of our clients are hurt due to the difficulties in the operation of the terminal. We have found a new solution: starting this year, we will inform customers in advance of the current status of the terminal. This is both for our peace of mind and for the peace of mind of our customers – they will be able to more efficiently calculate the logistics of grain flows.
You said earlier that in order to run a successful business, you need to constantly grow and modernize. Are there any specific development plans for the near future?
– We have a clear development schedule, but many things depend not on us, but on state-owned companies. If they work on schedule, I think we will do a lot within five years. And five years is not such a distant future for the terminal.
The main thing is that the terminal continues to be reliable, modern and comfortable for all customers. And the solution is quite simple: you need to increase the power. In the very near future, as I have already said, we will repair a section of railway tracks and increase the storage capacity.
What is the desired amount of one-time storage for the terminal?
– It's hard to say yet. We are dependent on traffic. If we increase capacity, but do not attract cargo – then why do we have to do this? In any case, there is a goal: to do more.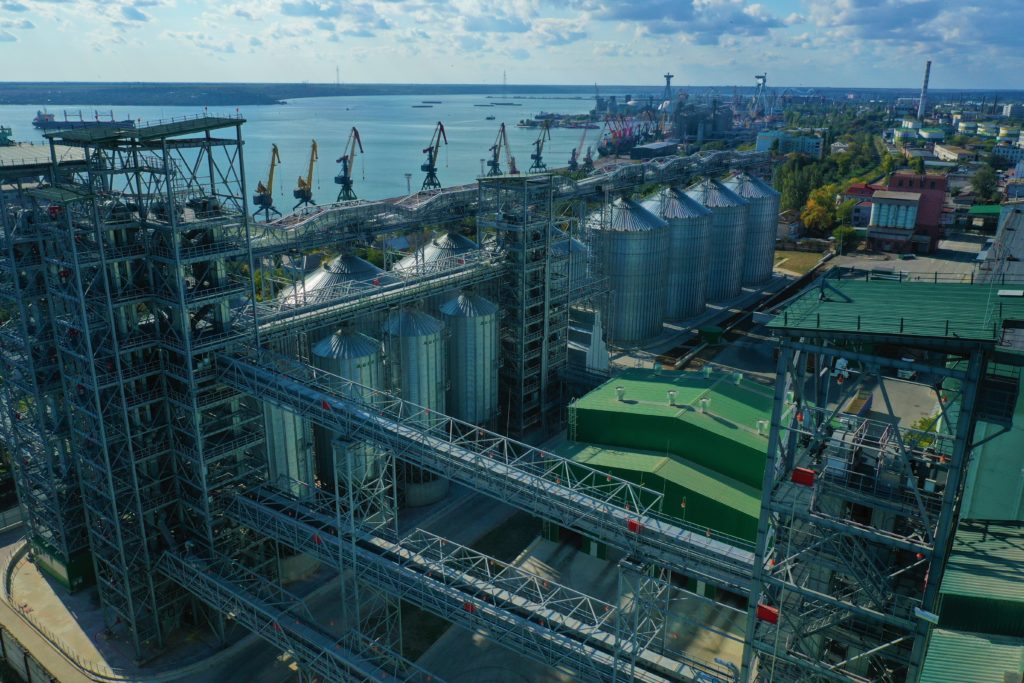 Posco, foreign investments and projects in Ukraine
How did Posco Group enter the CIS market?
– Posco Group is the third largest steel company in the world. For several years it has been among the leaders in the quality of metal production. Now it is not the volume of cargo turnover that matters, but quality and technology. Traditionally Posco works in the metallurgical and mining industries all over the world, and in the CIS countries there are quite a lot of these resources. This is how the company entered this market.
In early 2010, the management instructed me to cooperate with Ukrainian metallurgical partners. Then in Ukraine the equipment was outdated, therefore, and the quality was lower. In this regard, we had proposals for the modernization of equipment. We signed a couple of contracts, but then the crisis came. There was one project about which we think "well, it's good that it didn't work out." But, on the other hand, it was a pity for the effort and time spent.

Share this story with our readers?
– We won a tender for the construction of a power plant in Crimea in 2012. They started building just in 2014 … As a result, these are losses both for us and for Ukrenergy, which announced the tender.
It was a big project for us, we wanted to prove that our Ukrainian partners can trust us. But no one is to blame here – this is war. Although everyone understood each other, understanding is one thing, and money is another. We still filed a lawsuit and won – we received compensation.
Many said that we were in vain to sue and wait for compensation. They say, the state will not compensate, nothing will come of it. I thought, okay, it's not torture, just try. Moreover, I did not make that decision myself – our Ukrainian friends and partners advised me to try. As a result, the process took about 2-3 years, but everything worked out.

Speaking of return on investment, in your case, was the compensation adequate? In Ukraine, investment compensation and security are still a big problem in many industries. How do you assess the investment climate in the country now?
– Yes, the refund was sufficient. It is very important here who was the source of the funds. In our case, it was a European bank, so we could win. I may be wrong, but if it were a state source of funds, then, probably, the return would be in question.
Therefore, when foreign investors study the conditions, they pay attention to the source of funding – it is Ukrainian or international. If the source is international, then the relationship is more trusting.

In October 2020, Posco International dispatched the first batch of feed wheat from Ukraine to Korea. How did this process take place?
– It is important to note that the dispatch took place from its own terminal. Before that, we sold feed wheat and corn less often, but annually. I think about five ships definitely went to Korea. And it is not just that Korea is ranked 4th in the world in terms of import of agricultural crops (16-18 million tons, except for rice). Korea regularly, every couple of months, announces a tender for the purchase of cereals.

What is the purchasing procedure in South Korea?
– There are 4 associations in Korea, in each of them about 11-14 companies organize a tender. This is a familiar and quick procedure, up to the fact that the tender can be announced in the morning, and the winner will be known by the evening of the same day. Many complain that such a pace does not allow some companies to compete, but there is another principle, more important – Koreans value speed and quality.
Posco Group stated that they intend to become a one-stop supplier of food resources, not just a trading enterprise. How do you think the company plans to achieve this?
– It is important to note that Posco International is a large trading house, the "right hand" of the Posco Group. Answering your question: our parent company already has a palm oil plantation in Indonesia, for five years we have been producing and selling oil there. There are also two rice processing factories in Myanmar, Ukraine has its own terminal. We are also engaged in trade in North and South America, Europe. We are expanding and developing both port and onshore assets. We truly strive to be a one-stop supplier.
I can assume that we have already completed 40% of our big plans. Moreover, now I draw the attention of colleagues who deal with palm oil to Ukraine. After all, Ukraine is now number one in the sunflower oil market. They are, of course, aware of the importance of this direction. And I really hope that someday we will do it.
Can the purchase of a terminal in Ukraine be considered a strategic investment of Posco?
– In the USA and South America, of course, it is difficult. Big market, much more difficult to compete. That is why we have invested in Ukraine. Yes, there is also serious competition, but there are more opportunities in any case. After all, we have been preparing for a long time, studying all the details and risks, and this has yielded results. After all, you need to have a transport chain in many industries, not only in those that have already "conquered".
Do you think foreign investors need support from the state?
– Always.
Using your example: what could have changed if the Ukrainian government helped you with the terminal?
– Much depends on what funds and where exactly you are investing. After all, the participation of the state is not always needed. Together with our Ukrainian partner, we did everything perfectly, but now, as I said, there is a question with the railway outside our terminal. And if the state helps us, it will also be an investment. Investing is not just about money.
Plus, if our cargo traffic increases, it will benefit the state. Win-win, mutual interest. We are not only asking for help, there is a direct benefit for the state: both financial and image.
In general, everyone understands everything: different structures, so many stages of approval, etc. But this is the task of the state: when there is bureaucratic complexity, try to simplify it from its side. This will improve the investment climate for the state.
In 2019, you said, "if the Ukrainian government wants the Mykolaiv port to become a world port, sooner or later it will be necessary to address the issue of dredging". What is the current dredging situation?
– Mykolaiv is a large port city. The port needs to be able to accommodate all classes of ships – from small to large. If there are limitations, you already lose. For example, we cannot moor panamax now. Yes, we will load it up on the berth – but these are already limitations, inconveniences, time and money.
In order to say to the whole world: "Mykolaiv is a good, reliable port", you need to prove it with deeds. In this context, I really hope that something will happen. Of course, dredging is a big project, but at least we need to start implementing it.
Personal goals, difference in mentality and "A real good company"
Your Russian is impressive, was it difficult to learn it?
– I studied in the CIS, then traveled a lot on business and business trips. I constantly communicate with many colleagues in Russian, and now I'm learning Ukrainian. I work in Ukraine, I must know it. I hope that in the near future I will start speaking in Ukrainian.
Is there a big difference in the mentality of Ukrainians and Koreans?
– My answer will be subjective: I can think so, because I have been working and living in Ukraine for many years. It seems to me that we are similar. We have a lot in common, our stories are similar. We have the same attitude towards family, friendship, kindness. I spent a lot of time with Ukrainians when I worked in Kiev. And I often felt that I was working with fellow countrymen.
There is, of course, a difference in business relationships. For example, Koreans are more sensitive to the views and opinions of others. They pay a lot of attention to one problem. Ukrainians seem to respect and value diversity more.
And what are your goals for the near future as a terminal director?
– Mutual respect and trust are very important in business relationships, it is not even discussed. The main goal is customer satisfaction. It is important to make our clients happy with everything, so that they want to continue cooperation and expand it. If you cheated at least once or did not keep your word, clients will not consider you as a business partner, even though you are a tough businessman.
There is an even greater goal: we want the society to be proud of us, our terminal and our company. I want people to think of us as "real good company". We try to allocate part of the profit to those in need. First of all, of course, in Nikolaev, because we are here geographically. But we are ready to help wherever needed. We have already taken certain steps in this direction last year: we supplied the doctors of the children's hospital with protective suits resistant to coronavirus, and now we are preparing the supply of medical equipment. After all, a "real good company" is not one that earns good money, but one that benefits society.